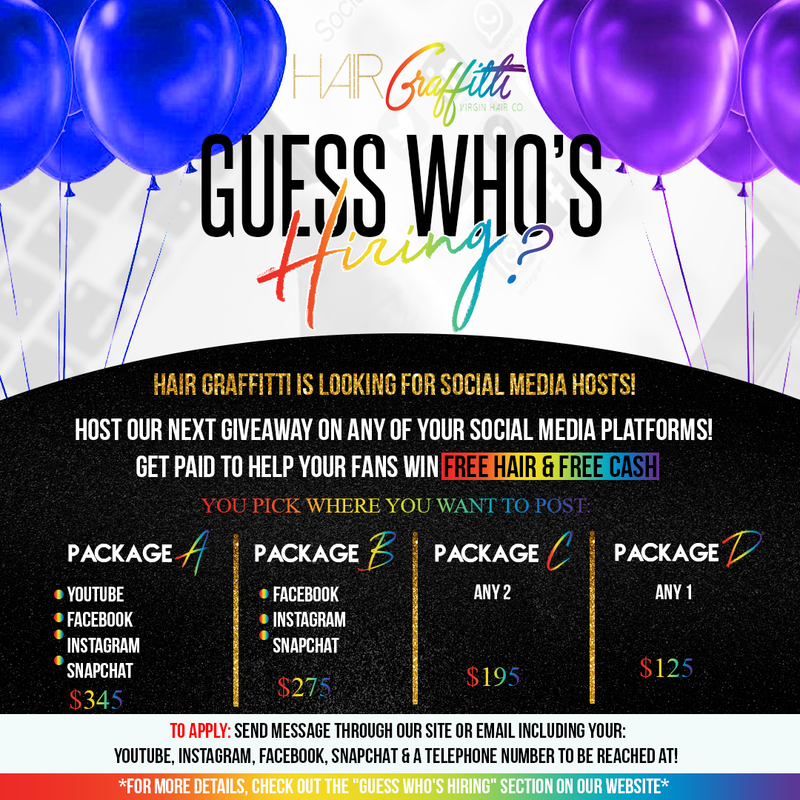 ADDICTED TO POSTING ON SOCIAL MEDIA, GOTTA BIG FAN BASE?? EVERYBODY LOOK TO YOU FOR ALL THE LATEST HAIR TRENDS & BEAUTY PRODUCTS??
If YES, well…THE WAIT IS OVER... HAIR GRAFFITTI IS HERE WAITING FOR YOU!
We're hiring for Social Media Hosts!
What is a hair host? (basically word of mouth marketing) You will help bring awareness to our brand, promote current sales and give your fans a chance to win our FREE cash and hair giveaways!
Our Social Media Hosts is a major part of our company! We're looking for 2-6 individuals that love being themselves, MATURE, easy to communicate, professional, reliable, consistent, creatively opinionated, passionate about what they do, trustworthy, dedicated, open minded, knows how to manage time, and money oriented!
We're looking to build a network of professional entrepreneurs that share the same passion for HAIR, FINICIAL GROWTH & SUCCESS!
We also operate a strict performance guideline due to the nature & investment of our products. Meaning, if at ANYTIME the staff of Hair Graffitti feels you're NOT a good match as expected (immaturity, unprofessional, lack of work performance, & fraudulent ways) we will pay you for that hosting event & RELEASE you from our brand for good!
Think you might be interested, here's how to apply (send a message thru our site with the following info) :
-Preferred name
-City you're from
-YouTube, Facebook, Twitter, Instagram & Snapchat name so we can follow you
- Which package(s) you're interested in
-PayPal info (ALL ACCOUNTS MUST BE VERIFIED) & Cash App Name
EVERYONE has to send this information so we'll know who you are & to get a small glimpse of your personality. Once you've sent your info, a Rep will go over it & if you're selected you'll be contacted DIRECTLY by the owner herself, BROOKE WALTON on congratulating you on joining the Hair Graffitti Team!
Also, Thank You to every applicant that took time out to consider joining our team! PLEASE NOTE! that if you're not selected immediately, DON'T PANIC! We keep all applicants info on file for a year! So follow us on social media & be on the look out because if we need additional hosts & feel you're the perfect fit for a specific project we will call, text or email you unexpectedly!
-Welcome to Hair Graffitti & we look forward to working with you!